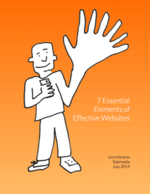 Written for anyone interested in getting the most out of their web-presence,
7 Essential Elements of Effective Websites
is an invaluable tool for anyone wondering how to optimize their presence online and make sense of the virtual marketplace. This short eBook is filled with valuable information & illustrative cartoons.
Get your copy today
.
Slab is a website creation and management platform.
Slab is intuitively structured, hierarchical, and self-organizing so that your content can be found and visits can be converted to inqueries.
Sites can be designed and re-designed easily while maintaining their structure and content. All of the content on a Slab website can be edited from any modern web-browser with no web-coding experience necessary. Changing or adding content is as easy as clicking and filling out a form. Because our sites maintain a hierarchical code structure, they constantly keep themselves easy to navigate and friendly to search engines.
If you are interested in your own Slab website,
let us know
and we will send you our demo and information to help you determine the best structure and pricing of your site.
We are a full service Web Design company located in Boston, MA.
Custom Design, Social Integration, Customer Service and SEO are all included. With Slabmedia you get:
A responsive site that you can easily update yourself
It's a fast and ever-changing world out there, and for most businesses, the key to staying relevant is staying up-to-date. Whether you are updating your inventory for a change in the season, or if you want to post your latest gig or event to a calendar, or maybe your clients expect a daily blog entry from you; whatever you need to do, you need to do it fast, and waiting for a web master to do it for you is simply not an option any more. With Slab sites, you have complete control of the content of your site, without needing to know any code. If you are capable of sending an email, then you are skilled enough to edit your Slab site. But don't take our word for it,
contact us
for a demo and see for yourself.
Custom design for a reasonable price
Like a well-tailored suit or an impeccable resumé, the first-impression look of your site dictates a lot about how your clients see you. It is crucial to integrate your logo with your online identity, and to make sure that the image you want to project is the one you are actually projecting. With more than 10 years of web design experience, the lead designer at Slabmedia is able to work with each client to create the unique and personalized look and feel they are hoping for without breaking the bank. Slab is able to meet your rigorous and exacting design standards. We encourage you to browse our portfolio to see the diverse nature of the hundreds of sites we have created. No matter what type of look is achieved, Slab sites are always well-designed.
Intuitive user experience
A great way to lose one of your visitors is to create unnecessary frustration for them on your website. Like all great products, the best websites are the ones where you don't notice how they work. Make sure people are seeing the content of your site, and not the distracting ads or frustrating pop-up windows that will drive people away. Slab sites are engineered to create an intuitive, responsive and simple interface that keep the focus on your products and not on the site map. From organization to aesthetic cues, our sites are designed to keep your visitors engaged on what is important- your business.
Powerful tools and advice to maximize your Search Engine Optimization
Slab sites are cleverly designed to catch and keep Google's attention so that targeted keywords bring more traffic to the sites. Back-end programming as well as clearly organized site structures help search engines spot Slab sites when relevant searches are made. Besides the technical advantages built in to the site, Slab staff are search engine savvy and can help guide you to get your site as high as possible in results listings from all the major search engines. We've got all sorts of tricks and advice to give you to help your site climb the results ladder.
Upgrades to keep your site up to date with new technologies
With each new tablet or phone or gadget or gizmo that hits the market, it gets increasingly difficult to make sure your website remains flexible and adaptable for the most current devices. The same is true for software updates that are constantly being released. Slab sites have access to free upgrades that keep them working with each late-breaking product release so that visitors can always access the site, no matter what type of screen they are looking through. Slab keeps the programming current so that you don't have to.
More than 10 years of consistent experience
Slab was created with the goal of providing top-quality websites and services to fellow entrepreneurs, artists and businesses. More than ten years and hundreds of websites later, Slab continues to deliver unparalleled products and services to all of our clients. We pride ourselves on empowering the owners of our websites to have the best sites possible by providing them with excellent programming, beautiful design, and accessible customer support. But you don't have to take our word for it; we encourage you to read our testimonials and see examples of
our portfolio
.
Prompt and friendly service
Remember back when you could pick up your phone and dial a help number to speak to an actual person? Believe it or not, that still exists! And not just any person - having a site managed with Slabmedia means having access to one of the experts who created your site. We are available by phone and email to answer your questions and help you with your web needs. Want to talk to a friendly Slab tech who can walk you through your website tasks? Just give us a ring or
shoot us an email
we are here for you.
Access to the unique Slab web system
The Slab web system is a unique approach to administrator-driven content-management websites. What that means is that Slab sites allow the site owners to change the content of their websites through an intuitive and user-friendly interface. If you are technically competent enough to send an email, you have the level of expertise needed to change the content of a Slab website. Adding text, pictures, sound clips and videos to your website could not be easier than with a Slab site.
The ability to add functionality without breaking the site or the bank
Successful businesses understand that their websites need to adapt and keep pace with their growth and diversification. It is important to stay ahead of trends and to take advantage of new areas of interest so that you can keep your clients' attention. Slabmedia offers a modular website system that allows site owners to add new functionality as it becomes relevant to their business.